Volkskrant: From Dance Party to Disaster Area August 5, 2019
Organizing a festival is a profession. And you can exploit that expertise internationally like the Support Group in Amsterdam does. Even in refugee camps.
What is the difference between a music festival and a refugee camp? The line between them is fading for the Support Group, a group of twelve Dutch companies that have grown big with arranging the logistical backside of dance festivals, such as Mysteryland and Sensation. Employees regularly sit down at the table with officials from the Ministry of Economic and Foreign Affairs to set up facilities in the event of disasters in distant countries.
The reputation of Dutch festival organizers reaches beyond the borders. The Support Group was for example given a role in organizing a two-year series of international events to promote the United Nations Sustainable Development Goals (SDGs).
The Support Group arranges everything festival visitors don't see or take for granted: electricity, fences, visitor flows, tents, toilets, running water, light and sound. The company became big in the dance scene, but nowadays the company pops up more and more at other events such as the build-up of fan zones around the Champions League final in Madrid this year, the Formula 1 circus and the five-year SAIL sailing festival.
Welcomed with open arms
During the two-year SDG World Tour, public events will be buildup for thousands of visitors in seventeen cities around the world. The Dutch festival expertise of the group of companies plays a leading role in each of these cities: technical facilities, operational management, crowd management, hospitality, safety, permits and more. Mitra van Raalten, director of the SDG World Tour: "That's a logistical nightmare, and the organizers of music festivals have exactly what such a project requires."
Abroad, the Support Group develops activities that are even more remote from the dance roots. An "innovation lab" has been set up that regularly collaborates with the Red Cross to test installations such as mobile solar panels and wind turbines for use in refugee camps. After hurricane Irma left a trail of destruction on St. Maarten in 2017, the catering service of the Support Goup was called in to organize the School Feeding Program.
Backbone, one of the companies in the Support Group, now has offices in New York, Los Angeles, Sydney and Jakarta. These foreign branches bring in 20 percent of the assignments, and that percentage is growing. The Dutch expertise is in high demand, notes Marcel Elbertse, founder of the Support Group.
This does not only apply to his organization. "Our expertise is welcomed with open arms, Dutch companies are known for hosting events very effectively." However, you cannot export the Dutch festival model integrally. Elbertse: "It only works with local people, we've noticed." That is why the staff in all these offices is largely local, with always one Dutch person. Local employees come to learn the trade by working one or two summers in the Netherlands on productions such as the Zwarte Cross and Sensation White.
Just like Reza Lesmana from Indonesia, who normally works at the Jakarta office of Backbone. He already came to Europe four times to participate in major events. He does not only learn how to use modern technical means, such as sound, light and laser synchronization. "We also learn to organize differently. We first worked with simple Excel files. Now we use integrated software." Lesmana continues to learn. Last week the Indonesian was in Belgium, for a Greek happening. Set up by a Dutch production team.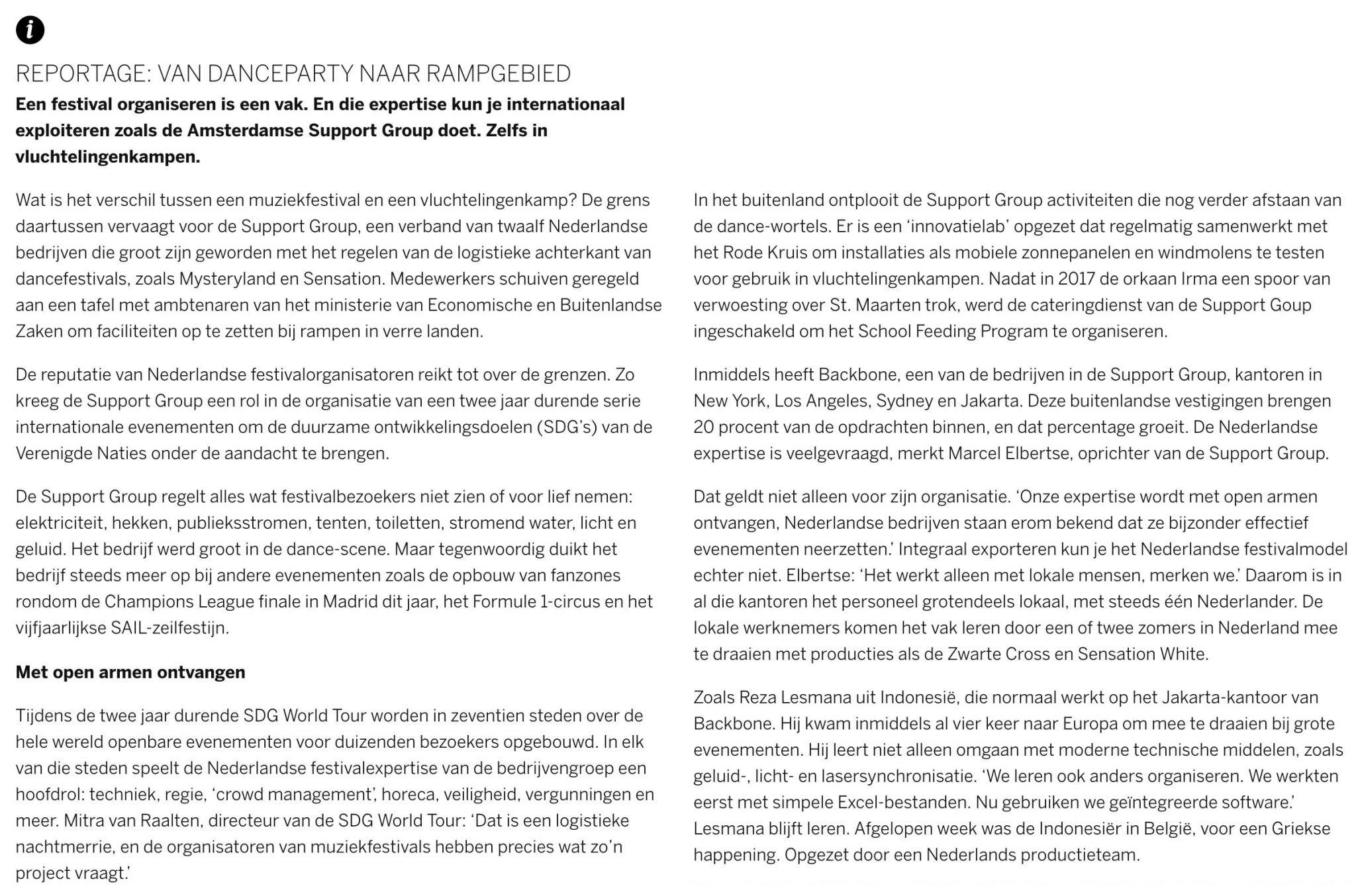 0