Backbone Talks: The REAL Backbone June 1, 2018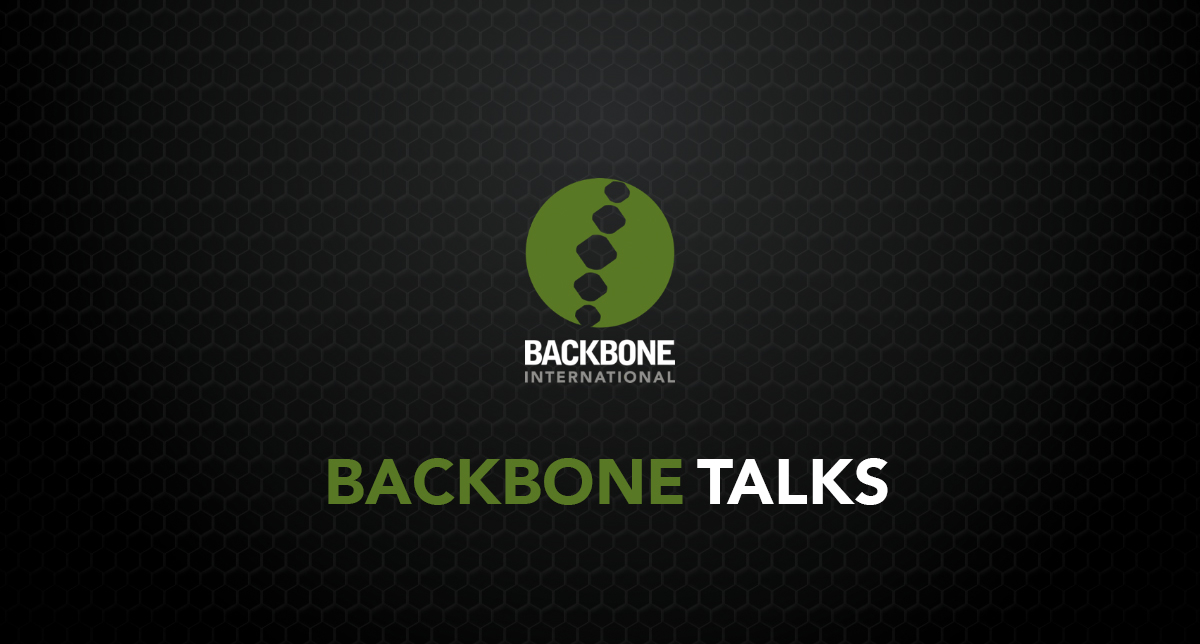 It's now my turn to tell my perspective about the REAL Backbone – to ultimately give an idea of what happens behind the scenes at our company headquarters and while on location.
When I first arrived in 2016, there was hardly anyone in the office, everyone was working out of office on projects. Bevrijdingspop always marks the start of Backbone's festival season, which was the exact time I was scheduled to start. Pieter (the managing director of Backbone Europe) called me and asked if I could join on location in Haarlem, which helped me get acquainted with the Backbone style of work and most importantly, getting to know my new colleagues! From the first few days working on location at Bevrijdingspop Haarlem, I felt the real spirit of Backbone. Everyone welcomed me with open arms and that was significantly important for me. I received a lot of encouragement working together with my co-workers and it felt like we were a close team. Something that couldn't be duplicated or replaced.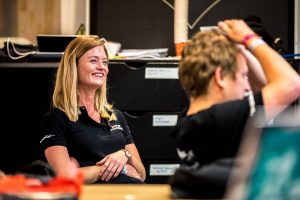 Given that the Backbone Europe office is mainly men, I can say that men are generally clear and direct. In the beginning I had to get used to it, when someone is tough on you, you can experience some difficulties, but in the end we all have the same goal. From the get-go we were able to find a good flow of communication and I found it very nice to work with my colleagues. I can certainly say that we have a very nice team at Backbone and actually… I was 'one of the guys' right from the start! To be able to come into this technical world with a lot of men, you have to make sure you get respect from the beginning and you get this, among other things, by working hard and showing what you are worth.
My first chance to display my hard work and determination, in the field, was with the Star Wars production at the ExCell in London. The client came to me in the morning and said that in the evening there needed to be a after work drink organized for the important key people who came to their stand. What Backbone had assisted with during this production was building a 'drone area' in which drones flew through a scene from Star Wars. With what the client disclosed to me, I swiftly picked this task up and produced a small "mixer" in the evening with staff, snacks, and drinks. For me, this is something I also like to do, it's a quick switch on location to make sure things come together, to make our clients happy.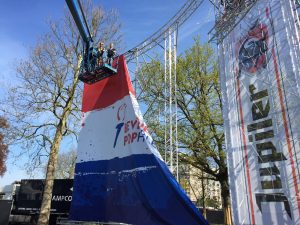 Fast forward to the present, my function within the real Backbone is one of a production assistant. I leave the technical matters, designs, and production to my colleagues and focus on keeping the team together. I book flights and hotels, I arrange visas, I am responsible for the crew planning (both in-staff and hiring), I do administrative work, part office management, I make offers… in a respectful manner, I am the center of it all. I make sure my colleagues accomplish the work they can do by arranging these facilities for them, both at the office and on location. But also when a colleague needs help with production matter, I jump in. Sitting back, I realize my days sometimes seem chaotic, because I usually work on many different things at once. But as I like to call it – it's organized chaos.
In addition to my productional function in office, I may also occasionally work outside on the shop floor! For example, during some of my first months I was the office manager at Hartje Ginneken and the back-office manager at 3FM Serious Request. My function can be versatile, which is important for the Backbone office because the productions we work on all have different needs, timelines, and tasks that need to be accomplished. What is important to my work is that a client or colleague can hand over a task to me and no longer has to worry about it.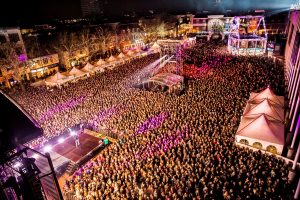 A real Backbone moment for me was 3FM Serious Request. Here I was responsible for the back office; including the catering, hotels, transport (bicycles, card, taxi buses), parking, accreditation, portable radios, etc. Everyone could contact me for requesting this and I was in direct contact with the client, suppliers, hotels, catering parties, etc. There were a lot of balls juggling in the air with this production, so I always had to be on my feet, and anticipate the next move. The biggest puzzle was the hotel stay, you can imagine that there are continual changes to this and that everyone should be able to be placed in a hotel. Over the entire period we had 1657 overnight stays for our crew! This definitely is a project I am most proud of.
These past two years working within the Backbone International office in Amsterdam has taught me a lot of elements… and I can't wait to continue on with my colleagues to help produce beautiful productions all over the world!
– Chantal Doornekamp
13