Backbone Talks: Overlay is Key in Making Events Happen December 19, 2019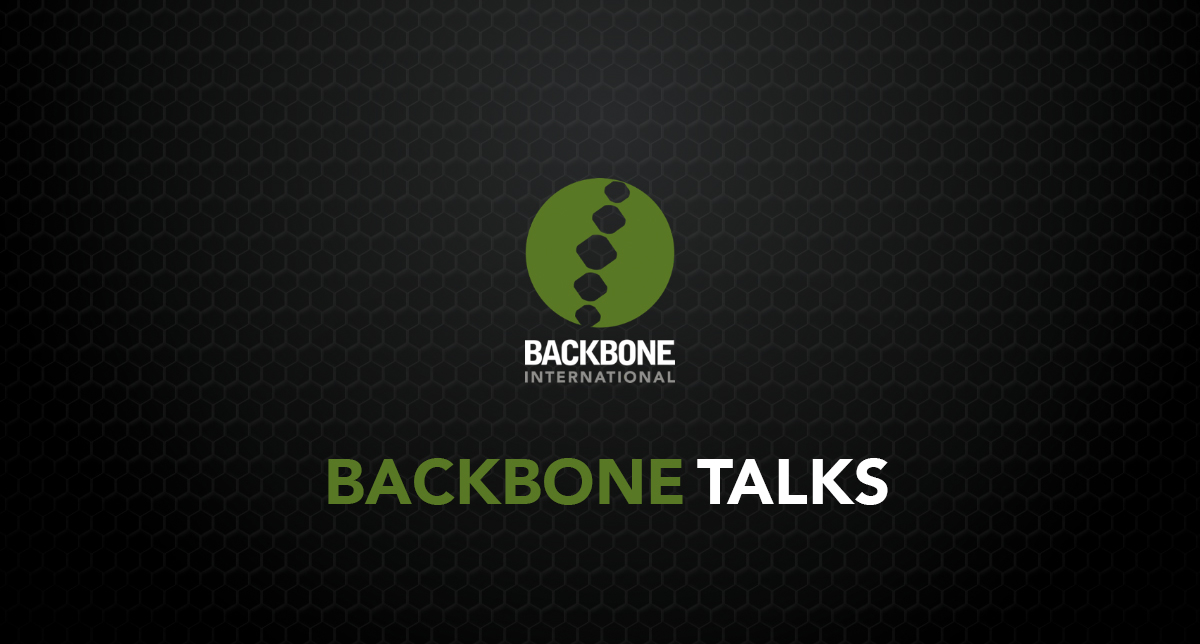 Recently I've got asked to cooperate on the last Backbone Talks of this year after some great Talks from my colleagues. And although I find it difficult to start writing, I do like to talk about my work. Overlay management in particular is an often misunderstood, but essential part in the production of events. So, with some guidance I'd love to tell you more about it, not only for entertainment purposes, but to also clarify this subject.
Site Production vs. Overlay Management
Currently I'm almost 4 years working for Backbone International as Overlay Manager, and I've noticed that people treat overlay management differently from site production. Overlay management is just the international term for site production, not more or less. So, where is this misconception coming from?
The term site production in this industry has its origins in the terms on-site and off-site. The site crew is before, during and after the event involved in the production. They arrive on location as first and leave it last. They make sure that the site is properly and securely set up, so the event runs smoothly. Afterwards they take care of a neatly site load-out. Their job is done well when the organization doesn't receive any complaints from visitors about things like overflowing toilets, muddy fields and congestions at the entrances and exits. When visitors don't even realize that there is any form of overlay, the site crew has done a great job.
The Definition of Overlay Management
All temporary infrastructure and services needed to make events happen, are part of the overlay management including the design, planning, installation and removal. It essentially is about the temporary elements and commodities needed to turn both existing and new venues into an event.
Let's take the annual Defqon.1 Weekend Festival in the Netherlands as an example to make this a bit clearer. To illustrate the scale of this project, you have to know that this event not only needs 25 days of execution, but also 30 days of pre-production. On-site and off-site the event terrain of Walibi World in Biddinghuizen we plan, order and install a total of 25 kilometers fences, which combined with the barriers is a truckload of 40 fully loaded trucks.
And what about an apparently simple thing as going to the toilet. A lot of people think you can just order and install some porter potties. In reality there is much more needed, such as planning how many toilets you need, the drainage of all the waste, cleaning them during the event and afterwards, the fences around them, the floor beneath them, facilities to wash your hands, but also the signage on the event venue.
Other elements are for example the (demountable) seating, picknick tables, tents, canopies, cabins, power supply, barriers, road plates and lighting columns on and around the venue. All temporary elements needed on the campsite are ordered and planned by the overlay manager, after which the campsite producer takes care of the execution of this part of the event. Further, the machinery is also in the hands of the Overlay Manager. At the busiest load-in day of Defqon.1 there are 54 gators, 45 Forklift trucks, 24 telescopic lifts and many more machines needed.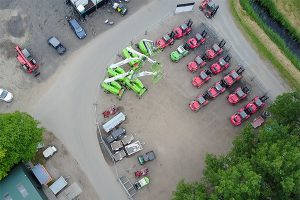 Skills of an Overlay Manager
A big difference between a Technical Producer and Overlay Manager, is that I work with many more suppliers in general, sometimes a total of 50 different suppliers each specialized in just a small part of the overlay management. On an event as Defqon.1 I'm working with 18 different deadlines in a weekend due to different opening times of the campsite and festival terrain. After the last end show I need 40 site crew workers, who first of all start with removing the lineup gates, so visitors can leave the venue much faster. Then they continue with making room for other parties such as technical suppliers by breaking down barriers, fences and more. This illustrates not only the amount of work, but also how you need to have a good overview of the project.
Being able to make a perfect planning is a must for well executed overlay management. When things have to be done multiple times due to a bad planning of site crew and/or materials, it costs a lot of extra time and money. A good imagination combined with lots of common sense is an important skill when ordering and planning, because you do not only need to know how much materials are needed, but also how long it takes to install everything.
In many cases you can't work on a logical way, because you have to work around many external factors such as the deadlines of technical parties, the availability of enough room to work on, but also the weather. When the temperatures are high, we sometimes start earlier and take more breaks to make sure everyone stays hydrated. And in case of heavy rainfall or thunder, you have to take shelter. You further have to be able to think outside the box, because when at first glance from the crew things are not possible, in most cases they are. You have to look at the complete picture, bundle all your information and think two steps ahead of where the work is done.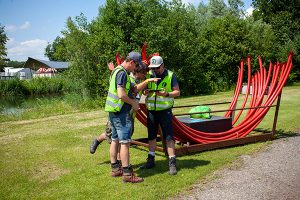 Overlay Management is also People Management
Besides having the knowledge about the materials, you also need the skills to work with people such as the suppliers and above all, the site crew. This group of hard workers is often underappreciated, they have to work long hours during day and night, while responsible for one of the heaviest physical jobs on an event.
It is important to me that my crew does feel appreciated. It is heavy work with long days in all kinds of weather, so there must also be something in return. This can be done via many secondary employment conditions, which may differ from person to person. It is however a job for the event enthusiast, and in my opinion one of the best roads to become a producer, in any form whatsoever.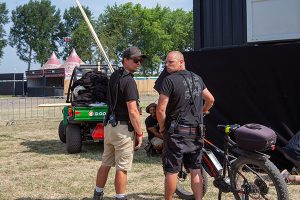 After 4 years, I still enjoy working with the site crew, our suppliers and making sure that the site of every event gets the attention that it deserves, because well-executed overlay management is in my opinion just as important as a nice stage.
– Laurens Kaizer
1