Backbone Talks: Finances and Beyond August 1, 2018

My Beginning
As a huge music fan and avid concertgoer, I never realized how much work was involved with putting together small club shows, let alone large music festivals, until I joined Backbone International. And I have to admit, I am at times still amazed by the size and logistics of everything that happens behind the scenes. Everyone agrees that having artists as well as the right equipment and infrastructure in place is essential for the production of a show, but budgeting, cash flow management and contracting are generally not among the first things that people have in mind when they think about events. They are, nonetheless, essential for an event's success.
When I joined the Backbone International team in New York in the summer of 2014, all my new colleagues were working hands-on on various productions – I started in the middle of our busy season and everyone else was some kind of producer (technical, site, or decor) and was 'on site'. In fact, I was asked to come to the Electric Zoo site instead of the office on my first day. This was quite a different environment from the corporate world I was used to, but I liked it from the start. As I said, all my colleagues were (and are still) producers: there was no one who really handled budgets, accounting, legal or HR when I started, which is why I was hired. I had setup a new department at my previous job as well, so I was very excited to get going.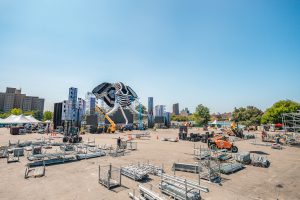 My Position within Backbone
It is difficult to describe what I do at Backbone International in a few words, as my work involves so many different aspects. My background is in legal and accounting and I do everything related to these subjects for our North America office. Even though the core of the North America office is pretty small – we only have 5 full time employees at the moment – we are responsible for large productions with serious budgets and have a significant pool of temporary crew we hire on a project basis. It is, therefore, important that things such as financials, agreements, payroll, and HR are handled properly and responsibly, and I am the lucky person in charge.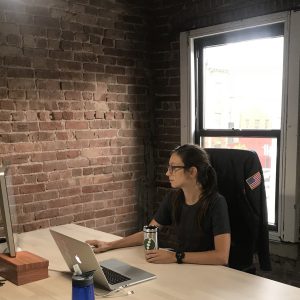 My work is split between that for our office and that for clients. Internally, I am responsible for the day-to-day accounting, periodic closings, management reporting, and various tax filings, as well as contracting (temporary) employees and the entire payroll process. Furthermore, I create and manage an annual budget for our North America office and manage cash flow throughout the year, making sure we always have enough money in the bank to pay our bills while at the same time adhering to agreed upon vendor payment terms. In this respect, I also make sure all vendor paperwork, such as W9s, is in order, and process payments. This happens for each of our events as well.
Backbone International works with different clients on a different basis: e.g. some clients hire us for an all-in fee to handle all of production including vendors, and others hire us more in a production management/consulting role where they contract and pay production vendors directly. Either way, our goal is to produce the highest quality events for the lowest possible costs, so our clients can simultaneously bring their patrons/customers/clients a great experience for a fair price and make a profit.
Production Budgets and Union Labor Spreadsheets
I develop and manage production budgets for all kinds of events, making sure budgets are realistic from the start and always up to date with the latest quotes/invoices available. In this respect, I work closely together with both our team of producers and our vendors to get information, as well as with our clients to keep them informed of the most recent changes.
I enjoy working with Microsoft Excel and spend a lot of time working with spreadsheets. I have created various templates that are being used on a regular basis by my colleagues as well. For instance, in order to streamline the process of creating quotes for our clients, I put together a multi-layered spread sheet with complex formulas that is easy to work with, even if your understanding of Excel is limited. All we have to do is enter our (estimated) costs in one tab, and the program adds sales tax, payroll taxes and fees, and a small margin. All the information is finally consolidated in a clear, easy-to-understand quote that can be shared with (potential) clients. Once a quote is accepted by our client, I use the same sheet to track our actual expenses for the project. This enables me to easily analyze budgets and actual expenditures as well as track profitability of projects and follow up on any vendor invoices that are yet to be received.
Another example of a spreadsheet I created is related to union labor. For some of our (bigger) projects we work with a lot of union labor, which means many different pay rates and overtime rules. Add different start times and vendor/area allocations to this, and you can imagine the complexity of budgeting costs and tracking actual spending. Not only is it important to accurately project these costs beforehand, it is essential to stay on top of actual spending to ensure costs do not exceed the budget. We need to know if certain vendors/areas use more labor than projected to see where we can make adjustments to stay within budget as well as provide an accurate spending overview per area to our clients. The spreadsheet I created simplifies this process, saving a lot of time on site, and limiting errors.
It used to be pretty common in our industry to make deals with just a handshake and both parties would hold up their end of the deal. Unfortunately, that is no longer the case and formal written agreements are more and more common. I take care of all contracts and contract negotiations for our North America office. Especially for larger projects where various people are involved on either end of the deal it is important to get every detail of the deal (which party is responsible for what; payment terms and amounts; deadlines; etc.) in a written agreement to prevent any misunderstanding later on. As part of this process, I also collect certificates of insurance from both our customers and vendors and work closely with our insurance agent to make sure everyone is covered – should anything go wrong – which luckily has not happened in my time at Backbone International.
Being involved in both the legal and financial side of productions gives me a complete overview of what our team is responsible for and decreases the chance of anything slipping through the cracks. This means agreements are always aligned with budgets and cash flow projections and vice versa. Furthermore, it enables me to create realistic expectations and assure agreed upon payment terms can and will be met. This is essential as not paying a vendor in time may result in essential elements of the production not arriving (in time), which in turn may result in either (much) higher costs or even worse.
By staying on top of financials and agreements, I enable my colleagues to focus on all other aspects of productions. Together we work diligently to provide high quality services at the lowest possible costs to our customers.
– Nikki Tillekens
0